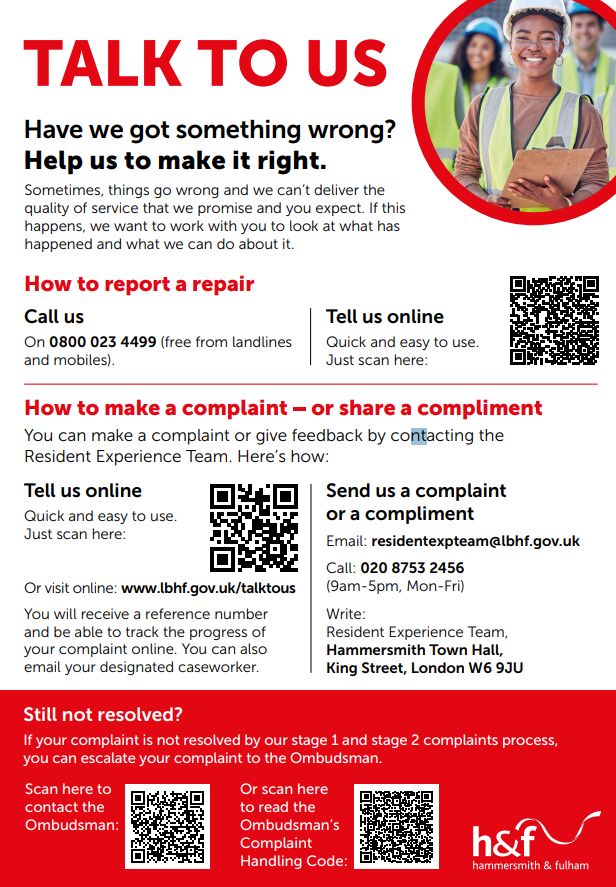 Have we got something wrong?
Help us to make it right.
Sometimes, things go wrong and we can't deliver the quality of service that we promise and you expect. If this happens, we want to work with you to look at what has happened and what we can do about it.
How to report a repair – Call us on 0800 023 4499 (free from landlines and mobiles) or Tell us online – Quick and Easy to use. Scan the QR code above.
How to make a complaint – or share a compliment.
You can make a complaint or give feedback by contacting the Resident Experience Team. Here's how:
Tell us online – quick and easy just scan the QR code above or visit online: www.lbhf.gov.uk/talktous
You will receive a reference number and be able to track the progress of your complaint online. You can also email your designated caseworker.
Send us a compliment or a complaint
Email: residentexpteam@lbhf.gov.uk or Call: 020 8753 2456 (9am-5pm, Mon-Fri)
Write: Resident Experience Team,
Hammersmith Town Hall
King Street
London
W6 9JU
Still not resolved?
If your complaint is not resolved by our stage 1 and stage 2 complaints process, you can escalate your complaint to the Ombudsman. See poster for QR codes