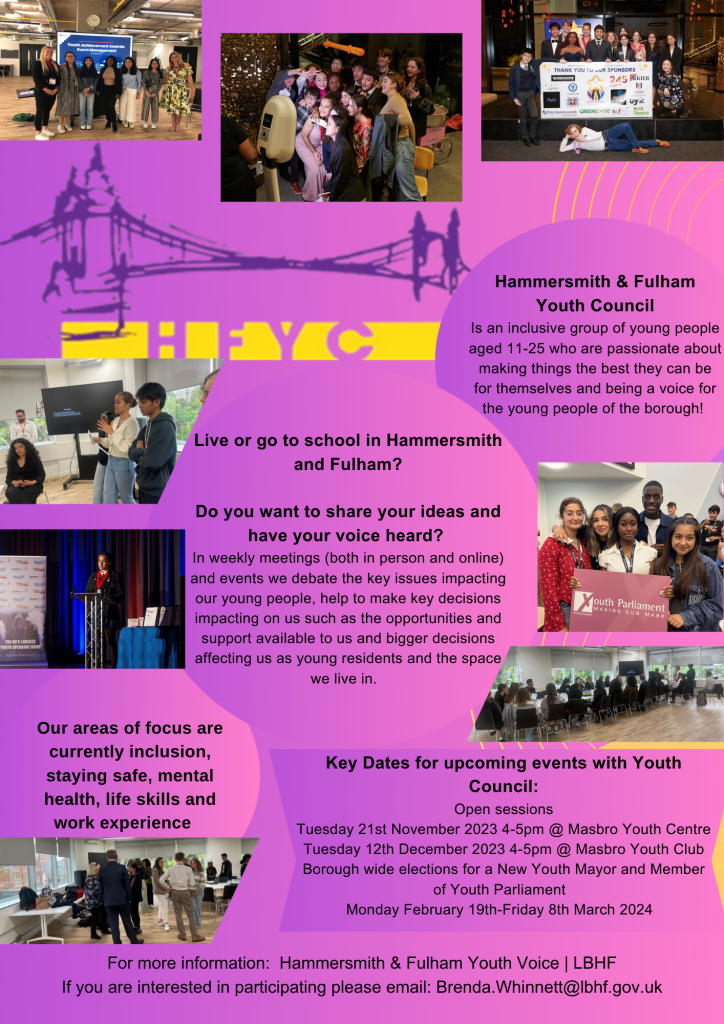 Hammersmith & Fulham Youth Council is an inclusive group of young people aged 11-25 who are passionate about making things the best they can be for themselves and being a voice for the young people of the borough!
Do you live or go to school in Hammersmith & Fulham?
Do you want to share your ideas and have your voice heard?
In weekly meetings (both in person and online) and events we debate the key issues impacting our young people, help to make key decisions impacting on us such as the opportunities and support available to us and bigger decisions affecting us as young residents and the space we live in.
Our areas of focus are currently inclusion, staying safe, mental health, life skills and work experience.
Key dates for upcoming events with Youth Council: Open Sessions
Tues 21 November 2023 4-5pm @ Masbro Youth Centre
Tues 12 December 2023 4-5pm @ Masbro Youth Club
Borough wide elections for a New youth Mayor and Member of youth Parliament Monday 19th Feb-8th March 2024

For more information: www.lbhf.gov.uk/children-and-young-people/young-people/hammersmith-fulham-youth-voice
If you are interested in participating please email: Brenda.Whinnett@lbhf.gov.uk